On this page you can read Pythagoras Premay because Pythagoras theorem is used while solving maths problems.
On the previous page, I have shared the post of Mensuration, you can understand all the information by reading that post.
Let's read and understand Pythagoras Premay on this page.
what is pythagoras theorem
If any triangle obeys the Pythagorean theorem, then it is definitely a right angled triangle.
The Pythagorean theorem establishes the relationship between the sides of a triangle. The Pythagorean theorem was originated by Pythagoras.
Pythagoras was a 6th century BC Greek philosopher who declared an essential property of right triangles. Hence the name "Pythagoras Theorem" was named after Pythagoras.
prove pythagoras theorem
Statement :- In a right angled triangle, the square of the hypotenuse is equal to the sum of the squares of the other two sides.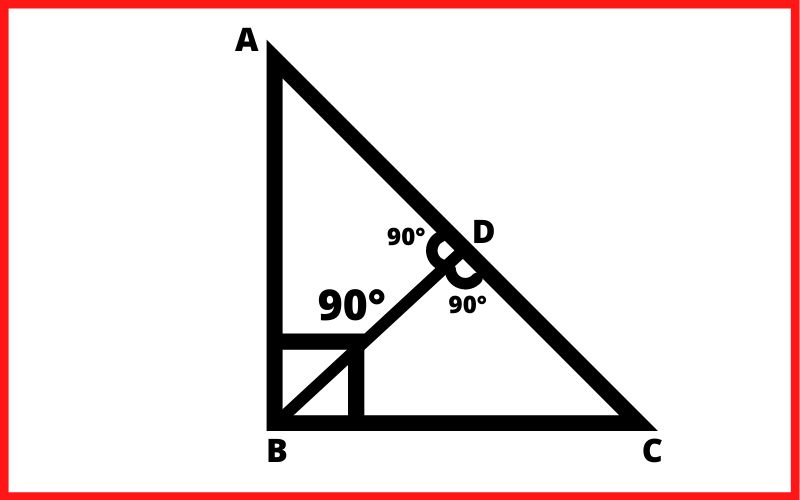 Given :- In ABC B = 90°
composition :- BD AC
To prove :- AC² = AB² + BC
Origin :-
In ADB and ABC
ADB = ABC = 90°
A = A (Common)
ADB ~ ABC
So AD/AB = AB/AC
AD × AC = AB² ………..(1)
In BDC and ABC
BDC = ABC = 90°
C = C (Common)
BDC ~ ABC
So DC/BC = BC/AC
DC × AC = BC² ………..(2)
Adding equation (1) and equation (2),
AD × AC + DC × AC = AB² + BC²
AC(AD + DC) = AB² + BC²
AD + DC = AC
AC × AC = AB² + BC²
AC² = AB² + BC
This was to be proved.
Pythagoras Theorem Question Answer
Question 1. In a right angled triangle, the side of the perpendicular is 3 cm, the side of the base is 4 cm, then what will be the side of the hypotenuse of Pythagoras?
A. 2 cm
B. 5 cm
C. 7 cm
D. 9 cm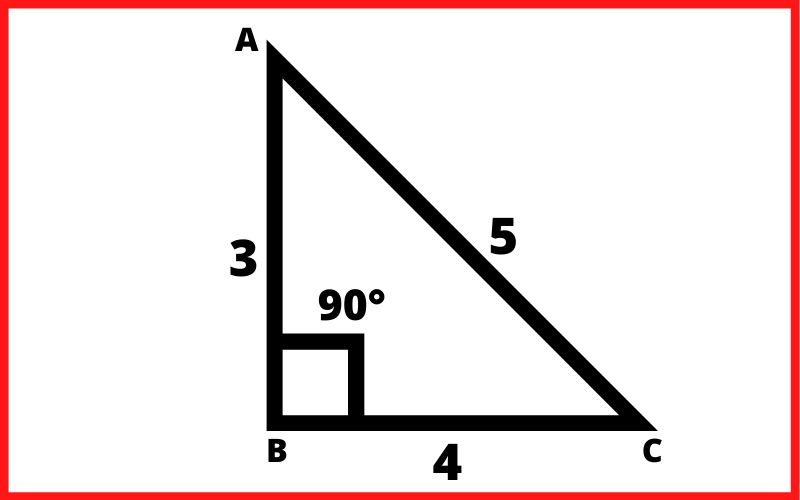 Solution:- According to the question,
From the Pythagorean theorem,
(hypotenuse)² = (perpendicular)² + (base)²
AC² = AB² + BC
AC² = (3)² + (4)²
AC² = 9 + 16
AC² = 25
AC = 25
AC = 5
Hence the side of the hypotenuse will be 5.
Answer:- 5 cm
Question 2. Angle B of triangle ABC is right angled. If AB = 5 cm and BC = 12 cm, then find the length of AC?
A. 3 cm
B. 10 cm
C. 13 cm
D. 16 cm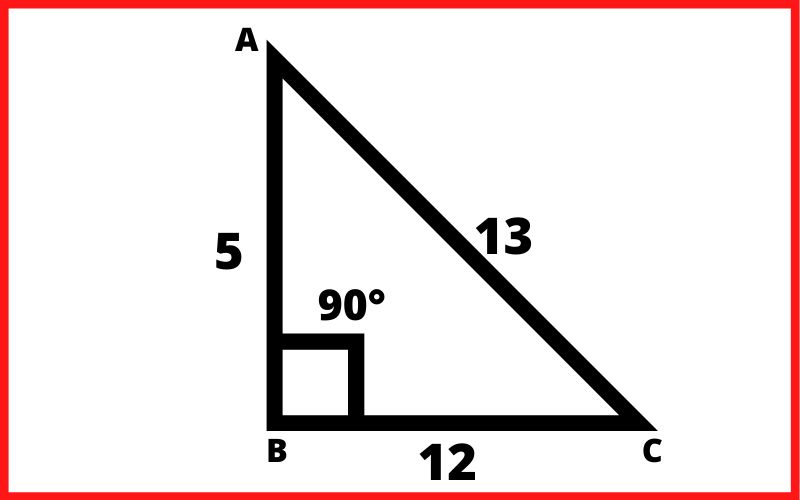 Solution:- According to the question,
From the Pythagorean theorem,
AC² = AB² + BC
AC² = (5)² + (12)²
AC² = 25 + 144
AC² = 169
AC = 169
AC = 13
Hence, the length of AC will be 13 cm.
Answer:- 13 cm
Question 3. A ladder is placed against a wall in such a way that its base is at a distance of 4 m from the wall and its top rests on a window at a height of 5 m from the ground. Find the length of the ladder.
A. 1 meter
B. 2 meters
C. 3 meters
D. 4 meters
Let AB be a ladder and BC be the wall with window C.
BC = 4 m. and AC = 5 m.
From the Pythagorean theorem,
AC² = AB² + BC
AB² = AC² – BC²
AB² = (5)² – (4)²
AB² = 25 – 16
AB² = 9
AB = 9
AB = 3
Thus, the length of the ladder is 3 m.
Answer:- 3 meters
Question 4. Angle B of triangle ABC is right angled. If AC = 15 cm and BC = 12 cm, then find the length of AB?
A. 3 cm
B. 6 cm
C. 9 cm
D. 12 cm
Solution:- According to the question,
The triangle is a right angled triangle, hence the Pythagorean theorem,
AC² = AB² + BC
AB² = AC² – BC²
AB² = (15)² – (12)²
AB² = 225 – 144
AB² = 81
AB = 81
AB = 9
Hence, the length of AB will be 9 cm.
Answer:- 9 cm
Question 5. Angle B of triangle ABC is right angled. If AC = 34 cm and AB = 30 cm, then find the length of BC?
A. 8 cm
B. 16 cm
C. 9 cm
D. 32 cm
Solution:- According to the question,
AC = 34
AB = 30
BC = ?
The triangle is a right angled triangle, hence the Pythagorean theorem,
AC² = AB² + BC
BC = AC² – AB²
BC² = (34)² – (30)²
BC² = 1156 – 900
BC² = 256
BC = 256
BC = 16
Hence, the length of BC will be 16 cm.
Answer:- 16 cm
Hope you liked the information about Pythagoras Theorem
Comment for any question related to Pythagoras Theorem